Rhythm, melody and harmony are the essential elements of a magic weave of notes, sounds and languages that different peoples and cultures are connected in unique embrace . "Blues, Swing & Folk for the integration of European cultures", is the title of the musical event sponsored by Futuro Digitale that it will take place on 28th of August 2016 in the beautiful medieval square Vittorio Emanuele III in Terranova da Sibari.
The music, since its origins, appears as the universal tool for a deeper communication between ipeople and societies, able to contaminate through the culture place, periods and traditions, becoming a natural bridge of dialogue that can eliminate the differences.
The European dimension is essential to the concept of musical culture, even within Erasmus programme, where you can learn, discover, live and to be experienced socio-cultural of music, rituals, feasts, of people of different countries and traditions, becoming an essential tool for reciprocal knowledge and enrichment.
Therefore "from the intercultural perspective it is essential to highlight this double charateristics of it, in order to know that the single musical expressions as matrix values (rhythm- timbre – melody – harmony) which are common to many cultures" (Caon, 2011 : 26).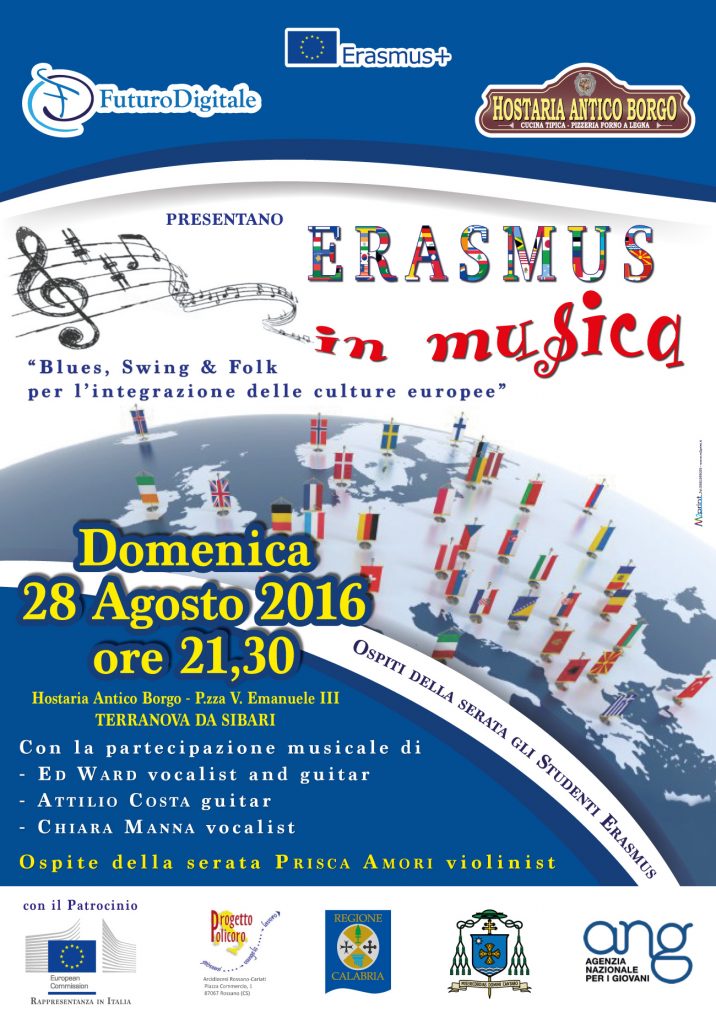 Event for the integration of European Cultures organized by FuturoDigitale and sponsored by:
European Commission – Rappresentanza Italia
Associazione Nazionale per i Giovani
Regione Calabria
Progetto Policoro Rossano-Cariati
Arcidiocesi di Rossano-Cariati
Guests of the event will be Erasmus Students, hosted by FuturoDigitale in order to carry out their internship.
With the musical participation of:
Prisca Amori born in Sydney in 1973, she started to study violin when she was 4 years old. In 1992 she was graduated from the Conservatory of Santa Cecilia with Maestro Pietro Mollo. Many are her own success: she played with the RAI orchestras in Rome, the Virtuosi of Santa Cecilia, Chamber Orchestra of St. Cecilia Accademy, Orchestra "G. Verdi" in Milan. She recorded the marked concerts of Vivaldi and Tartini for Stradivarius record company. With her latest collaborations she had been the protagonist as first violin in the Sangiorgi music for the soundtrack of Veronesi films; Jeff Mills number one in the world of techno in the festival of Two Worlds in Spoleto. She has collaborated with Max Gazze, Laura Pausini, Fiorella Mannoia, Gigi D'Alessio, Adriano Celentano, Claudio Baglioni, Niccolò Fabi, Daniele Silvestri, Luca Carboni, Mina and Renato Zero. She also played as first violin in the last disc of Gianluca Grignani and in 2011 in Taormina she was involved as a first violin at the concert by Jovanotti, unique event with Orchestra. Last year she played as first violin at the concert by Carmen Consoli in Taormina, she has recorded the music of Sergio Cammariere for his latest album due out in November. In particular, she started her collaboration in 1993 with Maestro Ennio Morricone in his tour around the world and for the wonderful soundtracks.  Morricone wrote a musical for violin and strings registered three years ago in which she was the soloist violin. In the latest collaborations she played as a first violin at the Bruce Springsteen concert on 16th of July 2016 at the Circus Maximus in Rome and she is currently involved in the summer tour of Simona Molinari. Read more.
Attilio Costa, born in Terranova da Sibari on 03.10.1977, started to study classical guitar when he was thirteen years old with Maestro Pietro Morelli. In 1997 he deepened his studies at the University of Music in Rome. Versatile guitarist, composer, teacher. He is working and collaborating with various artists of the Italian scene, such as Roberto Ciotti, Carlotta Proietti, Santi Romano, Prisca Amori, Attilio Fontana, Claudia Arvati, Laura Serra. In 2007 he participated to the event realized by Lucio Dalla at the Como social theatre with Gabriel Zagni. From 2008 onwards, he went on tour "SACCO E FUOCO" with Teresa De Sio. Some of his current collaborations: Raffaello Simeoni, Arnaldo Vacca, Micrologus, Sara Jane Ceccarelli, Jacopo Ratini, Ed Ward, Mari Of Woe, Andrea Ascolese, Nduja Soul, Med Free Orkestra, Gabriel Zagni. In the last few years he became the protagonist of many live in Italy and abroad. Thanks to one of his musical projects started in 2007 with Silvana Scarbello, they created the "Blues Factory duo" and realized a disc called "Big Trip". Personal page.
Ed Ward (Edward Santini) is a Roman singer of Folk/Blues music. In the last years, Ed has released two albums (Man Overboard and Tigers) and travelled far and wide across Europe bringing his music with him wherever he has been: songwriter versatile and he is always looking for a renewal, and he is currently focused on his study at Berklee College of Music in Boston. Ed Ward music is a powerful mix of various influences: folk, reggae and rock are just nuances in a world of vast influences and constantly evolving. Amidst August and September 2016, Ed will start again his tour through Italy, Switzerland and Germany. [Video 1] [Video 2] [Video 3]
Chiara Manna, self-taught singer and vocalist of 5ROCKs band. The passion for music and art  dragged her into music and theater performances, such as "Aggiungi un posto a tavola" musical as Ortensia character. Member of the Polyphonic choir Harmònia and Sing4life vocal quartet, composed by Maestro Daniela Piraino, Maestro Cesare Sisca and Maestro Luca Bruno. She has participated in numerous vocal technique seminars, including one conducted by Maestro Ciro Caravano, member of Neri Per Caso.  [Video 1] [ Video 2] [Video 3]